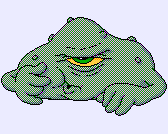 Nebulus Doolittle is a professional obstacle for the Villains' International League of Evil. His favorite author is H.G. Wells, his favorite astronomer is Maria Mitchell, and his favorite food is toxic waste.
He has been descried as woefully inert, pathetically sluglike, the-next-thing-to-comatose, and just plain lazy. Indeed, Nebulus's inactivity makes your average couch potato seem like a hyperactive whirling dervish. Hired by Carmen Sandiego to be a lookout, Nebulus is good at keeping his one eye peeled for "the fuzz". Unfortunately, he rarely summons up enough energy to warn the gang. Used more and more frequently as just a roadblock, Mr. Doolittle is the very definition of "immovable object".
Vain as a movie star, Nebulus is constantly struggling to "keep his figure". Determined to maintain his weight under a ton, he is on a strict daily diet of three dozen fried toxic waste pancakes, which he washes down with five gallons of Orange frappes.