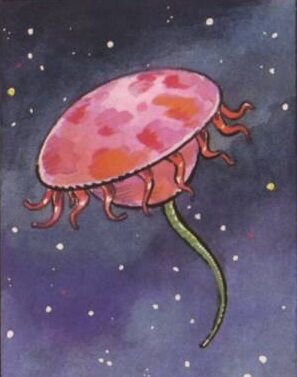 Kit Incaboodle is a hospitality way-station and loot sanctum for the Villains' International League of Evil. Its favorite author is H.G. Wells, its favorite astronomer is Maria Mitchell, and its favorite food is liquid hydrogen.
Possessed of an inviting mound-shaped head, lethargic disposition and complete lack of brains or talent, Kit serves as a safe and comfortable rest stop for travel-weary interplanetary crooks. Once described as "half life raft, half whoopie cushion, half mushroom and half-witted", Kit feels quite at home in and around the nothingness of space.
The only member of Carmen Sandiego's gang to rival Nebulus Doolittle in inactivity, Kit has nonetheless served as a successful (and totally unexpected) vessel for storing stolen goods from over five hundred Sandiego space heists. Not one for the spotlight, Kit is often seen reading H.G. Wells' The Invisible Man.